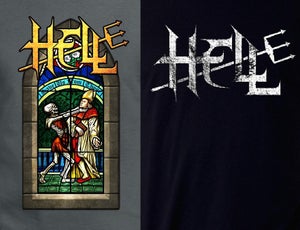 £

27.50
Get both new shirt designs at a great price, along with some bonus goodies.
'Pope II' and 'Distressed Logo' ordered individually would normally cost you £33.50, but order both together as this package - and we'll knock off £5.00 for you to spend on beer instead.
PLUS - we'll throw in a complimentary copy of the rare 'End Ov Days' CD single used to promote our 2014 tour, and include a cool high-quality printed band postcard.
PLEASE USE THE DROPDOWN BOX TO SELECT YOUR PREFERRED COMBINATION OF SIZES - THANKS \m/