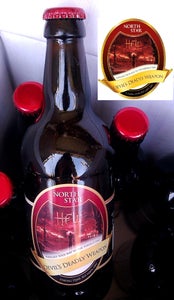 £

45.00
SHIPMENTS WILL START 1st week January 2014.
Specially produced for us by Derbyshire's own North Star Brewery. Very dark, very heavy - and 6.66% ABV :) Contains 6 different malts and a host of quality organic ingredients, and brewed with an initial mash temperature of exactly 66.6 degrees C for added Hellishness.
Case of 12 x 500ml bottles, shipped direct from the brewery to your door via APC Overnight.
THE CASE PRICE INCLUDES DELIVERY anywhere in the UK.
PLEASE NOTE that because of the considerable weight and risk of damage, this item can ONLY be shipped to the UK at the moment.
UK international postal regulations also only allow 1L of alcohol (up to 24% ABV) to be sent via mail - so we will soon be providing expanded polystryrene packaging to allow gift packs containing 2 x 500ml bottles to be sent worldwide.
YOU MUST BE 18 YEARS OF AGE TO PURCHASE THIS ITEM. BY CLICKING 'ADD TO CART' BELOW AND ADDING YOUR ADDRESS DETAILS, YOU CERTIFY THAT YOU ARE 18 YEARS OF AGE.
Cheers !!